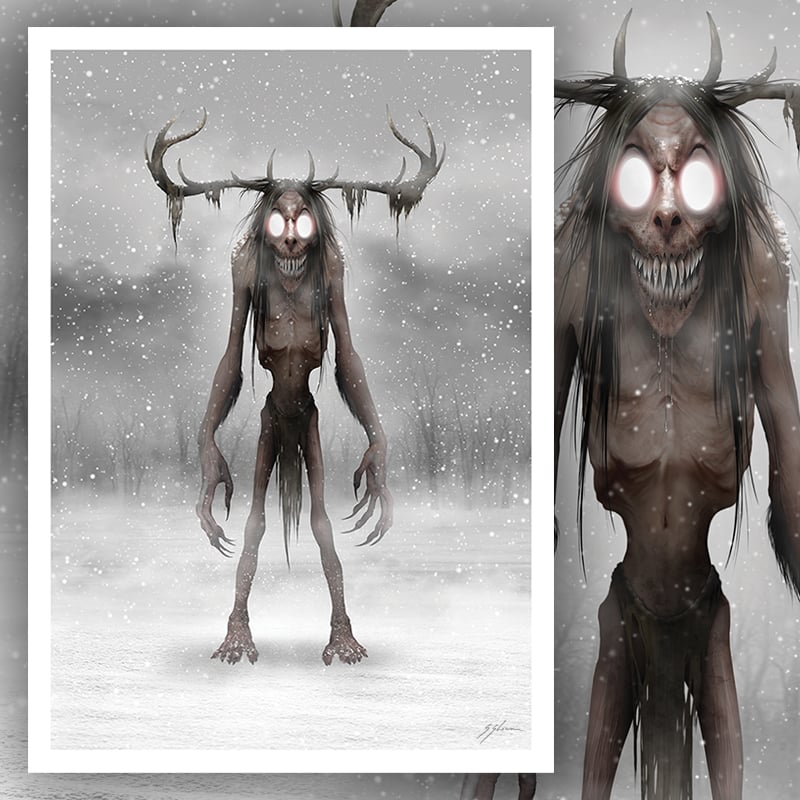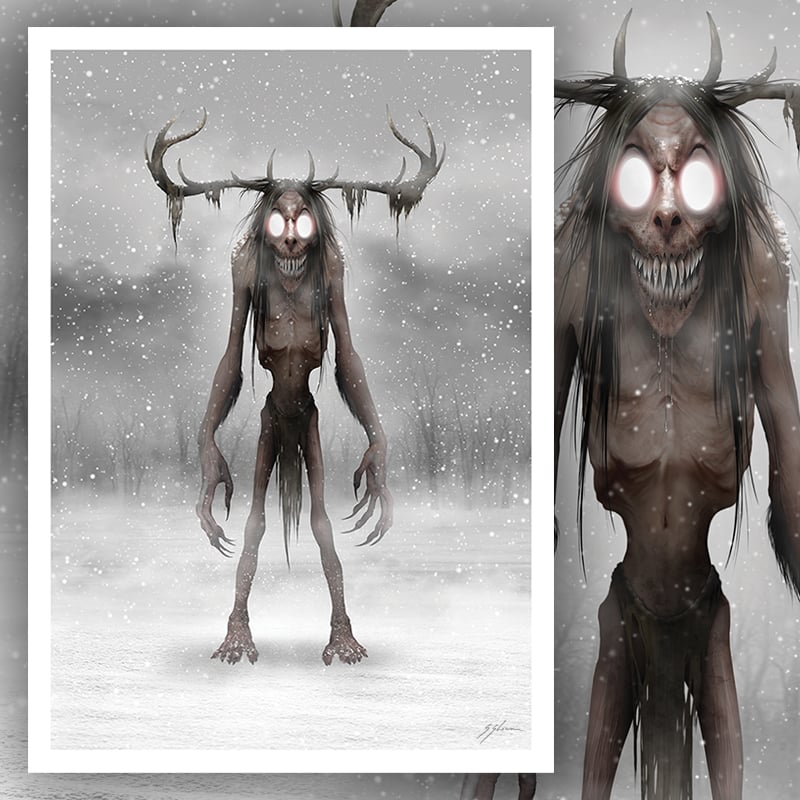 WENDIGO 12" x 17" Signed Print
$25.00 USD
The Merry Macabre world of Mister Sam Shearon's Creepy Christmas, is now available as a set of signed prints measuring 12" x 17"
The Wendigo are mythological creatures or evil spirits from the folklore of the First Nations Algonquin tribes based in the northern forests of Nova Scotia, the East Coast of Canada, and Great Lakes Region of Canada and in Wisconsin, United States.
The Wendigo is depicted as a monstrous malevolent spirit, with some characteristics of a werewolf. Its influence is said to invoke acts of murder, insatiable greed, cannibalism and the cultural taboos against such behaviours.
The creature lends its name to the controversial modern medical term Wendigo psychosis, described by psychiatrists as a culture-bound syndrome with symptoms such as an intense craving for human flesh and fear of becoming a cannibal.
In some Indigenous communities, environmental destruction and insatiable greed are also seen as a manifestation of Wendigo psychosis.
In Ojibwe, Eastern Cree, Westmain Swampy Cree, Naskapi, and Innu lore, Wendigos are often described as giants that are many times larger than human beings, a characteristic absent from myths in other Algonquian cultures.
Whenever a Wendigo ate another person, it would grow in proportion to the meal it had just eaten, so it could never be full. Therefore, Wendigos are portrayed as simultaneously gluttonous and extremely thin due to starvation.
The Wendigo is seen as the embodiment of gluttony, greed, and excess: never satisfied after killing and consuming one person, they are constantly searching for new victims.
Be good for goodness sake!
Print measures 12" x 17" signed.
Delivered in a black tube.
*Be sure to check out there rest of the store for other prints in this series and also the sets of all Creepy Christmas designs as GREETING CARDS!
All of these will be available until December 5th to be shipped in good time for Christmas (within the US).
PLEASE NOTE: Any purchase after this date cannot be guaranteed a delivery before Christmas!