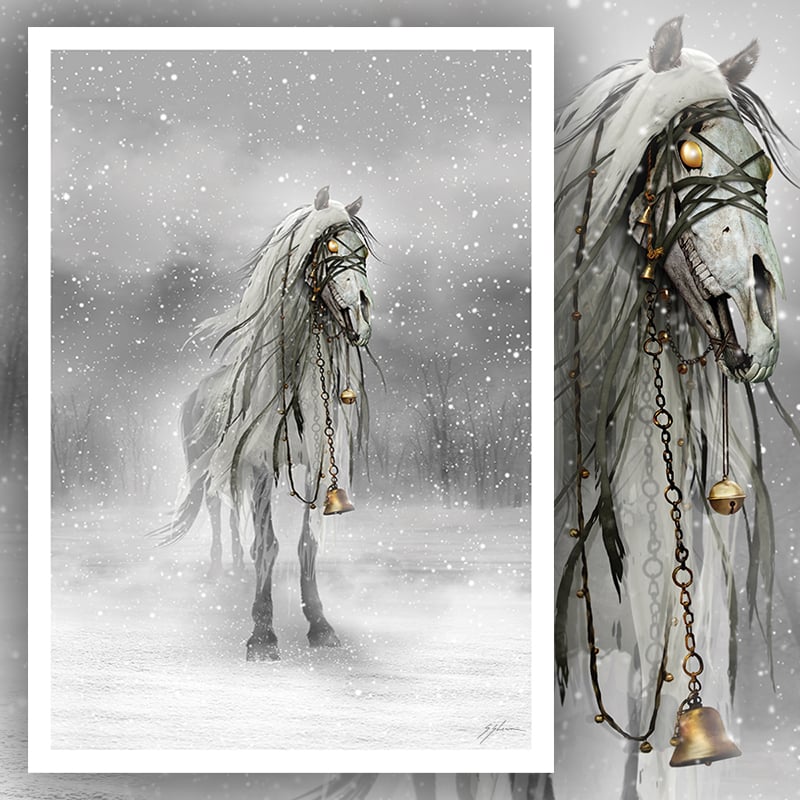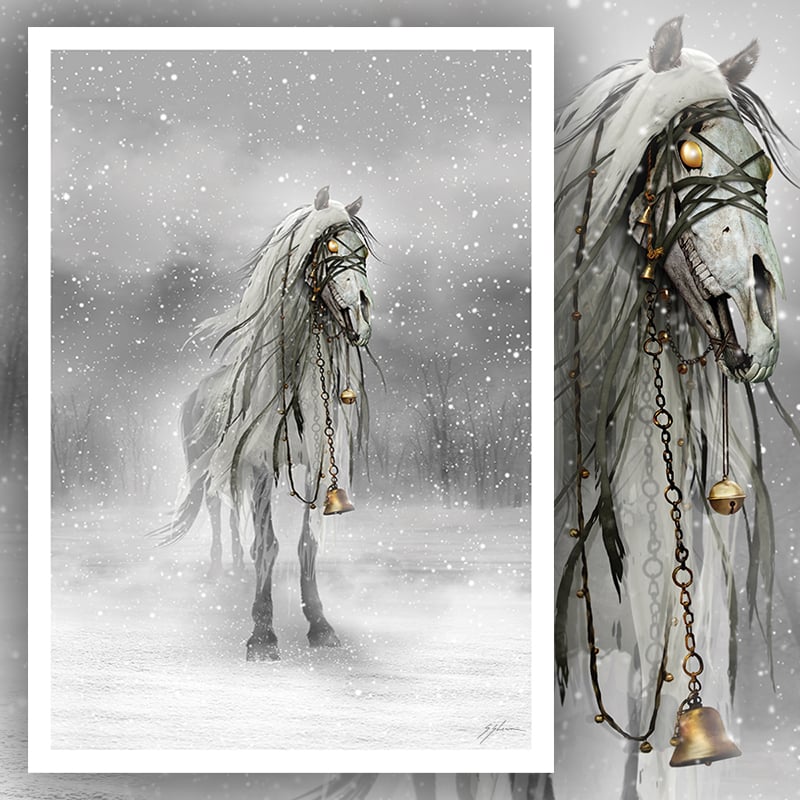 MARI LWYD 12" x 17" Signed Print
$25.00 USD
The Merry Macabre world of Mister Sam Shearon's Creepy Christmas, is now available as a set of signed prints measuring 12" x 17"
Mari Lwyd, the Welsh 'Grey Mare'...
The un-dead horse of song and supper!
Stemming from the South of Wales, this variation on the British tradition of the 'Hooded Animal' gives rise to the ghostly monstrous door-to-door visitations of the a 'wassailing' snow stallion. Traditionally a person would hide under a white sheet and carry a horses skull on a pole, like a frightening mixture of part man - part hobby horse.... This strange creature would be accompanied by a variety of other strange characters that would go from door to door and challenge the occupants to a duel of song!
The team would carry the Mari Lwyd to local houses, where they would request entry through the medium of song. The householders would be expected to deny them entry, again through song, and the two sides would continue their responses to one another in this manner. If the householders eventually relented, then the team would be permitted entry and given food and drink.
Nobody truly knows the origins of this tradition or even where the name comes from and what it really represents or means... But nothing could be more disturbing at dinner time than a knock on your front door from an un-dead horse!
Be good for goodness sake!
Print measures 12" x 17" signed.
Delivered in a black tube.
*Be sure to check out there rest of the store for other prints in this series and also the sets of all Creepy Christmas designs as GREETING CARDS!
All of these will be available until December 5th to be shipped in good time for Christmas (within the US).
PLEASE NOTE: Any purchase after this date cannot be guaranteed a delivery before Christmas!